Providing Varied Homecare Services Including RN Services, LPN Services, Medicaid Social Work Services, Certified Nursing Assistants (CAN), Personal care aide, and HHA
The Rock Home care Inc was founded by a hard-working registered nurse, who spend most of her nursing career providing the best care to the sick, the disable and the frail elderly. She started her career as a home health aide providing home care to clients in the comfort of their homes. Then she became a certified nursing assistance in which she dedicated most of her service to the elderly in the nursing homes. After many years of commitment to serving the frail sick elderly population, she decided to take her caring knowledge in a different dimension. She started her nursing career at the college of Staten Island, obtained associate degree and continued at Wagner college for bachelors and master's degree. The founder of the rock home care is well grounded in the knowledge of caring. She works at Staten Island university hospital Northwell health as a med/surge nurse, float, and oncology nurse since 2006, and community nurse via visiting nurse, agency, and a nurse practitioner. The founder is dedicated and committed to proving an exceptional care to the best of her knowledge to the population she dedicated most of her lives, caring, and protecting their welfare and wellbeing.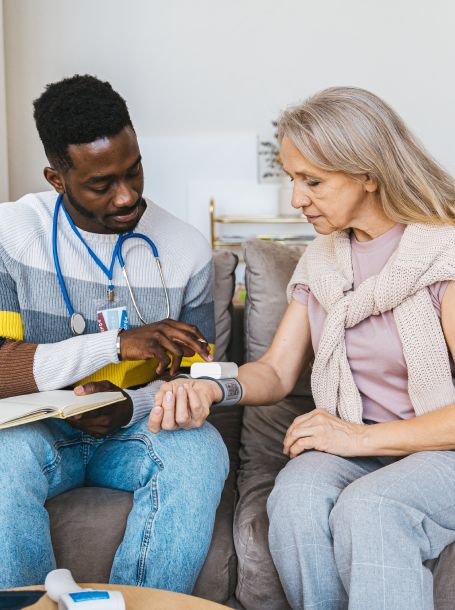 The Rock Home Care, Inc is proud of the accomplishments of the people that have made up this company. The Rock Home Care, Inc is particularly proud of the fact that we possess a dedicated management team that demonstrates honesty, integrity, and professionalism in all aspects of operations. The company is also particularly proud of the fact that all our associates are carefully prescreened to ensure the highest standard of quality and we strive to provide a superior level of service.
The Rock Home Care is dedicated to provides exceptional, cost effective, family focused care for the medically complex patient. Our goal is to meet the patients' medical needs in the nurturing environment of their home, minimize the impact of the patient's condition on the family while respecting the role of the family in the care of the patient.
The Rock Home Care Inc. is particularly focused on its strengths and uncovering opportunities that it can use to better care. It is also focused on understanding weaknesses.
The Rock Home Care is committed to maintain quality Home Health Care Programs consistent with the agency's Mission Statement and the Patient's Bills of Right's.
Agency is committed to collaboration with medical and clinical professionals in the evaluation of patient care needs with the aim of providing holistic care based on the following principles:
Home health care is grounded in respect for human dignity and worth, upholding the principles of Informed Consent.
Recognition of the value of home health care as integral to the broader health care delivery system, the aim of which is optimal health for the individual and family.
Provision of excellent, comprehensive, accessible home health care services which are adaptable to individual and family needs, regardless of race, color, creed, national origin, age, sex, sexual orientation, disability, or marital status.
The individual's right to be informed of the services available to him/her and to participate in the planning of his/her care.
Agency is aware that patient safety is a major concern; management will give this a top priority always.
To promote and supervise the health and wellness of patients who come under the care and supervision of this Agency.
To provide community care and support services to acutely, chronically, and terminally ill clients and their families.
To decrease dependency on institutional care and reduce acute care costs through early hospital discharge.
To ensure that all patients are provided with quality, comprehensive health care services through a coordinated Plan of Care.
To provide continuity of health care facilitate uninterrupted service within the health care system.
To promote early recovery or maximum rehabilitation in the patient's home environment.
To provide effective channels of communication with the patient, physician and other organizations and providers within the health care community.
To foster professional and personal satisfaction of all employees by maintaining a positive environment that stimulates pride and professional growth.
To increase the awareness of health-related issues to members of the community.
The Rock Home Care Inc.
The Rock Home Care Inc. is particularly focused on its strengths and uncovering opportunities that it can use to better care. It is also focused on understanding weaknesses that it can eliminate. It will also manage and eliminate threats that would otherwise catch the company unawares. By looking at all aspects of the company and its competitors using the SWOT framework, The Rock Home Care Inc. can start to craft a strategy that helps distinguish the company from its competitors, so it can compete successfully in its market. The Rock Home Care Inc. understands that strengths and weaknesses are often internal to the organization, while opportunities and threats generally relate to external factors.
Strengths
The Rock Home Care Inc. has many caring services and a dedication to making each person's life more secure and worthwhile. With exceptional patient care it can stand out from its competitors. The atmosphere is unique and particularly inviting and the dedication to caring services will certainly be appreciated by its patients. Additionally, a major strength will be the fact that the owner is hands-on and making certain that every patient is happy and satisfied.
Weaknesses
The Rock Home Care Inc. knows that it needs to avoid having employees that are not on board with giving patients the very best attention and the very best patient care. The company cannot falter in its cleanliness routine as well. It also cannot falter in monitoring feedback from all patients. Additionally, marketing must not be inconsistent as other companies are constantly trying to lure patients to their services. The Rock Home Care Inc. wants to be realistic and face any existing or new weaknesses.
Opportunities
The Rock Home Care Inc. feels that the location from which it will be operating is an excellent one. There are numerous opportunities for reaching out to local medical offices with special explanations of its quality care practices. The trends in better care include monitored interaction with each patient. The Rock Home Care Inc. is determined to seize these opportunities to being expert at patient interaction.
Threats
The Rock Home Care Inc. doesn't see any significant threats now to its business. People need its various services, and it is confident that there are no pending serious threats. If technology changes care, it is confident it will change with the changing technology.
The Rock Home Care, Inc will coordinate worker productivity with increasing market demand to ensure continued company growth and development. Its approach emphasizes the individual participation of every employee and member of this organization and the total process of building the company to acquire an ever-increasing market share. By guiding and helping employees with knowledge and awareness, it will build a solid foundation for achieving its most ambitious goals. The Rock Home Care, Inc realizes that this is an ideal time to establish its business in this growing industry and move forward in a steady progression over the next five years.
Beliefs & Values
The adoption of the appropriate approach in providing home heal care services based on the following basic assumptions 
We ensure quality home health care to patients
The provision of home care service is guided by the philosophy of the agency.  
 To ensure quality home care to patients

 To provide continuity of home care for patients
 To maintenance and realization of the full potential of human life a supreme value
Humans possess a unique hierarchy of needs as defined by Maslow
Physiological needs
Safety needs
Belonging and love needs
Self-Esteem needs
Self-Actualization
Humans search for meaning in personal life experiences.
Humans make choices and decisions based on their individual beliefs and values
Humans exert personal control over their lives in making such choices and decision.
The philosophy of The Rock Home Care Inc is based on the above assumptions, that each home care patient:
Desire home care service that promotes the patient's value of life by:
 Minimizing negative patient's illness and disability outcomes.

Maximized potential patient level of independent outcomes.

Restoring, maintaining, and promoting patient health.

Possesses unique philosophical, safety, physiological, self-esteem and self-actualization needs that require consideration on the patient's plan of care of home care.

Search for meaning in the personal life experiences surrounding the patient's illness or disability.

Make choices and decisions about the provision of home care services relative to the patient's self-defined unique needs and according to the patient's personal beliefs and values.

Exert personal control over the patient's personal life in collaborating with home care staff members regarding the provision of services
In support of the agency's philosophy, employees are dedicated to the provision of comprehensive quality care which is patient-centered and patient' family-centered, provided in the patient's place of resident's place of residence.  Care focused on the patient's unique philosophical, safety, physiological, self-esteem and self-actualization needs.  
The agency is committed to the provision of the provision of home care services that assist the patient to search for meaning in the personal life experiences surrounding the patient's illness or disability.  
Staff help patient's make choices and decision about the provision of home care services based on patient's self-defined unique needs.   
Patient's and family are encouraged to collaborate activities with agency staff and other home care providers regarding the provision of appropriate services.  Educating patients, family and the community of health-related issues is also part of the agency philosophy.
all client care and activities provided by the agency and its personnel are administered in an ethical manner and 
those ethical issues which may arise are appropriately and timely addressed. 
Agency will take under consideration any ethical issues involving the staff or the client and will respond in a manner consistent with good ethical practice. 
The agency establishes a code of ethics that addresses these

i

ssues in the care and service of clients, including the marketing of services along with admission, discharge, and billing practices. 

Educational material is provided to all personnel, and/or utilized through in-service training relating to client discussions that may

i

nvolve: Advance Directives; Withholding or withdrawing care or service; Discussions involving a client's personal matter, finances, care, or service. 

The Agency acknowledges its mission is to provide quality hea

l

th care services that respect the rights of our clients to self-determination, allowing them to fulfill their goals as family members and members of society. 

The Agency adheres to the highest standards of ethical business practice while providing quality care to our clients in an ever-changing economic environment. 

The Agency recognizes our responsibilities as an Equal Opportunity Employer. All written policies and procedures are utilized consistently throughout the agency in relationship to all decisions made that involve or

affect

an employee's rights. 

The Agency recognizes that the health care industry is an ever-changing field and will continue to update and adapt our services to meet these needs in cooperation with all governing agencies and organizations. 

The Agency maintains the highest standards of honesty and integrity throughout any representation of itself to the public. All marketing and advertising are conducted in an ethical manner, with no misrepresentation of the services or charges that the company will render.
Emergency
Unless otherwise indicated on the medical orders, the Agency Director of Patient Services will initiate the following emergency procedures in the event of an emergency If patient experiences a sudden and/or significant change in his/ her health status, the caregiver is to evaluate if the situation demonstrates a need for emergency and/or immediate medical intervention. If the situation is significant and the physician cannot be accessed within a reasonable amount of time, or is life-
STANDARD OF PRACTICE: Our Standards of care will reflect the following:
Assessments that are pertinent and comprehensive to the care and services provided. Provision of care will be based on identified patient needs such as:
Physical/medical status.
psychosocial status.
available support systems pertinent to the plan of care.
teaching needs of the patient/caregiver.
the patient's ability to communicate and learn.
environmental status.
equipment and supply needs.
safety and infection control.
medication administration and response; and the
individual's rehabilitative potential.
Provision of care, which demonstrates clinical knowledge appropriate to the identified needs of the patient.
This agency effectively provides the needed service, care, treatment, or intervention. Effective efficient provision of treatment intervention.
There is an opportunity in Staten Island, New York to open and operate an innovative successful home health care agency providing varied homecare services including RN services, LPN services, Medicaid social work services, certified nursing assistants, personal care aide, HHA. Halimattu Foday-Kakpa recognize this opportunity and have decided to go forward with their new company named The Rock Home Care, Inc. The company will penetrate the market in the business of providing dedicated and compassionate in-home daily care for senior citizens and other segments of the population. Mrs. Halimattu Foday-Kakpa also recognize the opportunities for allowing people to maintain their independence and quality of life in the comfort of their own homes by providing exceptionally high-quality care delivered by a trained and certified staff of industry professionals. The Rock Home Care, Inc will serve its areas of the home health care, working to make its operations more productive.